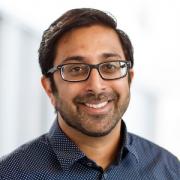 Vikaas Sohal, MD, PhD
Understanding emergent patterns of activity in cortical networks & their relationships to psychiatric disorders
THE BIG PICTURE: We are interested in emergent patterns of activity in the brain. Specifically, how are these patterns are generated, and how do they contribute to information processing and behavior? We are interested in normal cognition, emotional states, and behaviors that have been linked to psychiatric disorders including schizophrenia, autism, anxiety, and depression. We are particularly interested in how the prefrontal cortex, hippocampus, amygdala, and thalamus work together to perform these functions.
WHAT KINDS OF DISCOVERIES HAVE WE MADE? We are interested in patterns of activity in both microcircuits and distributed networks. Microcircuits are made up of different classes of neurons, including GABAergic interneurons, which can interact to generate rhythmic patterns of brain activity. These rhythms can synchronize across brain regions, helping those brain regions to communicate. We have shown how specific classes of interneurons generate rhythms in the gamma frequency range, and how these gamma rhythms contribute to cognition functions that are impaired in disorders like schizophrenia. We have also shown that beta-frequency synchronization spanning the hippocampus and amygdala predicts changes in mood and anxiety. We have discovered how neuromodulators such as dopamine and serotonin can change the properties of specific cell types, thereby changing the way in which prefrontal circuits contribute to particular behaviors. We have also identified specific changes in prefrontal circuits that may contribute to abnormal behaviors in autism.
WHAT ARE SOME QUESTIONS THAT WE ARE CURRENTLY STUDYING? How do neuromodulators such as dopamine act on particular cell types to promote particular brain rhythms? How do rhythms change the ways in which microcircuits process information, allowing them to pay attention to specific sources of information or encode information related to specific aspects of behavior? How do specific cell types regulate communication between different brain regions? Conversely, how do interactions between different brain regions recruit particular cell types in order to transmit specific kinds of information and guide behavior?
HOW ARE WE EXPLORING THESE QUESTIONS? Our lab uses a combination of optogenetics, calcium imaging, electrophysiology, and computational modeling. New technologies make it possible to measure brain activity with unprecedented resolution, but in most cases, the field still hasn't figured out how to make sense of these data. Therefore, we are developing new mathematical approaches, which often take a "big data" perspective, to analyze large datasets collected using multisite electrophysiological recording, as well as calcium or voltage imaging. We work mainly in mice, but are also collaborating with Eddie Chang's lab as part of the DARPA SUBNETS program, to discover how mood and emotion are encoded in the human brain.
Lab Members